Apparently the Dear Leader's second son is a big fan. From the Korea Times:
"Japan's Fuji TV has broadcast footage of a man resembling North Korean Leader Kim Jong-il's second son, who is about 170 centimeters high, wearing blue jeans, taking pictures and seeing the British rock star's concert. Clapton played in four German cities between June 3-7. The junior Kim is known to have studied in Bern, Switzerland, in the mid-1990s, and his classmates confirmed he is the figure in the video, according to Fuji TV…Some North Korea watchers raise the possibility that Kim Jong-chol will become the next leader of the world 's most isolated nation, but others say he was dismissed by his father for being too much of a 'sissy.'"
Is that because the Junior Kim thinks Clapton is god? Stay tuned.
A woman watches a video footage taken by Japan's Fuji TV in German, earlier this months, of Kim Jong-chol, second son of North Korean leader Kim Jong-il. (Yonhap) No shots from the Clapton concert, though.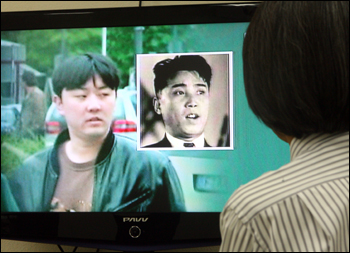 UPDATE (12/10): Turns out that North Korea was very eager to get Clapton to play in Pyongyang. According to a US diplomatic cable leaked to WikiLeaks:
North Korean officials "suggested" to the Americans that because Kim Jong-il's second son, Kim Jong-chol, was "a great fan" of the British guitarist, a "performance could be an opportunity to build goodwill". The report adds that "arranging an Eric Clapton concert in Pyongyang… could be useful, given Kim Jong-il's second son's devotion to the rock legend".
Intriguing. Read about it here.