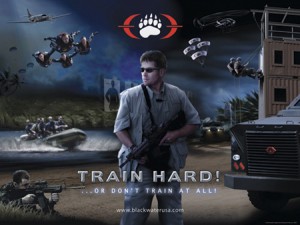 Blackwater, the notorious mercenary company now known as "Xe," has a new Chief Operating Officer (COO) – Charles (Chuck) Thomas, formerly of the British-owned defense and intelligence contractor BAE Systems Inc. According to today's press release from Blackwater owner USTC Holdings LLC,
Thomas joined Xe on September 6, 2011, retired as a Major General in the U.S. Army, where he held the position of Chief of Staff, Headquarters, U.S. Army Training and Doctrine Command from 1998 to 2001; Commanding General, U.S. Army Intelligence Center and School and Ft. Huachuca from 1994 to 1998; Deputy Chief of Staff, Intelligence, U.S. Army Europe from 1993 to 1994; Vice Director of Intelligence for the Chairman, Joint Chiefs of Staff from 1991 to 1993 and Director of the Joint Intelligence Center, U.S. Central Command in the first Gulf War; and many other leadership positions throughout his military career. He is based at the company's new headquarters office in Arlington, Va.
Now that's a pretty deep intelligence background – perfect for a company that is involved in some of the CIA's most covert operations in Pakistan and elsewhere. It might take a while for reporters to figure out what this appointment means in the long run. So in the meanwhile let's take a look at some Twitter postings today from an informed source on all things covert to explain a little about Thomas' past and how his past jobs will enhance Blackwater's role in the U.S. wars in the Middle East, North Africa and elsewhere on the planet (the author of these tweets asked to remain anonymous and I will respect that request).
Thomas at Xe is very bad. For a multitude of reasons. Chief among them, his vast knowledge base in compartmentalization…For starters, Thomas was STO on the Joint Staff under Cheney and Powell.  What does that mean? STO, or special technical operations officers, manage and "oversee" — heh — Special Access Programs, of the legal & extra-legal variety…The dude ran pretty much every military intelligence element at every echelon…He ran the Army's intel schoolhouse at Huachuca…Then, he assumes command of TRADOC and the predecessor to what is now Human Terrain System (Note: see my Daily Beast article on HTS here)…In summation: Chuck Thomas brings to BW/Xe vast experience in blended operations, special collection and a solid grounding in STO.
It's also important to understand the role of BAE itself in U.S. intelligence. I wrote quite a bit about the company's contracts with the CIA and other agencies in my book Spies for Hire, and here's an excerpt that was first published in CorpWatch in 2007. Note especially BAE's extensive work for the CIA, with which Blackwater/Xe is closely identified:
BAE's services to U.S. intelligence — including the CIA and the National Counter-Terrorism Center — are provided through a special unit called the Global Analysis Business Unit. It is located in McLean, Virginia, a stone's throw from the CIA. The unit is headed by John Gannon, a 25-year veteran of the CIA who reached the agency's highest analytical ranks as deputy director of intelligence and chairman of the National Intelligence Council. Today, as a private sector contractor for the intelligence community, Gannon manages a staff of more than 800 analysts with security clearances. (Note: since this was written, Gannon has moved up in BAE to president of the company's Intelligence and Security division).

A brochure for the Global Analysis unit distributed at GEOINT 2007 – a conference sponsored by the National Geospatial-Intelligence Agency and its contractors – explains BAE's role and, in the process, underscores the degree of outsourcing in U.S. intelligence. "The demand for experienced, skilled, and cleared analysts – and for the best systems to manage them – has never been greater across the Intelligence and Defense Communities, in the field and among federal, state, and local agencies responsible for national and homeland security," BAE says. The mission of the Global Analysis unit, it says, "is to provide policymakers, warfighters, and law enforcement officials with analysts to help them understand the complex intelligence threats they face, and work force management programs to improve the skills and expertise of analysts."
At the bottom of the brochure is a series of photographs illustrating BAE's broad reach: a group of analysts monitoring a bank of computers; three employees studying a map of Europe, the Middle East and the Horn of Africa; the outlines of two related social networks that have been mapped out to show how their members are linked; a bearded man, apparently from the Middle East and presumably a terrorist; the fiery image of a car bomb after it exploded in Iraq; and four white radar domes (known as radomes) of the type used by the NSA to monitor global communications from dozens of bases and facilities around the world.
The brochure may look and sound like typical corporate public relations. But amid BAE's spy talk were two phrases strategically placed by the company to alert intelligence officials that BAE has an active presence inside the U.S.. The tip-off words were "federal, state and local agencies," "law enforcement officials" and "homeland security." By including them, BAE was broadcasting that it is not simply a contractor for agencies involved in foreign intelligence, but has an active presence as a supplier to domestic security agencies, a category that includes the Department of Homeland Security (DHS), the FBI as well as local and state police forces stretching from Maine to Hawaii.
So there you have it. Thomas brings all his intelligence experience, both in government and at BAE, into Blackwater/Xe. The revolving door turns one more time. And the business of war goes on. When will we ever learn?
Update: Blackwater hires disgraced AIG "Compliance Czar" Suzanne Folsom as first chief regulatory/compliance officer and deputy general counsel.