Foreign Policy in Focus just posted my take on the recent brouhaha about U.S. Special Forces "parachuting" into North Korea. Here's an excerpt: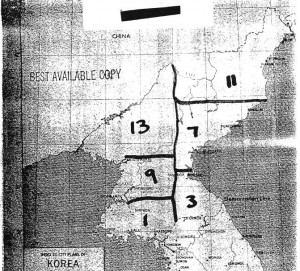 A classified Pentagon document leaked to me in 1984 may shed some light on a U.S. general's outlandish claim last week that U.S. Special Forces, along with their South Korean counterparts, have parachuted into North Korea in search of human intelligence on the country's nuclear weapons programs…
I wasn't surprised to see the denials. As a long-time Korea watcher, I was immediately skeptical of General Tolley's original claims. With tensions on the Korean Peninsula as high as they are, Pyongyang would see any movement by U.S. forces into North Korea as a serious provocation – an act of war.
I wondered how an excellent reporter like David Axe could fall for the story and argued on Twitter that the episode "once again shows how gullible and clueless American journalists can be about Korea." Axe, I said, "should have done his homework." (Axe later admitted that he might have been taken. "Look people, Korea's not my usual beat," he said on his blog. "Far from it. I don't always know what's news and what isn't in Korea.")
Since then, a lot has been said about Tolley's comments. Maybe he was speaking hypothetically. Maybe he was trying to send a message to North Korea's new leader, Kim Jong Eun. Or, as blogger Jeffrey Lewis put it on Arms Control Wonk, maybe Tolley was "speaking in the present tense about a future event — what the United States would do in the event of a war with North Korea.'
That seems the most probable answer. After all, the United States and South Korea have been planning for years for deploy Special Forces into the DPRK in case of war. My documents prove it.
One document, a secret report prepared in 1982 by the Defense Intelligence Agency, describes in considerable detail a redeployment of South Korean Special Forces. Under their "new wartime missions," DIA said, two Special Forces brigades "will be inserted into the far northern provinces of North Korea near the Manchurian border."
The document, which has never been made public before, underscores that the insertion of South Korean Special Forces into North Korea has been part of U.S. war planning there for decades. But it also illustrates a knowledge gap. In discussing Korea, most reporters and analysts are oblivious to the deep history of U.S. and South Korean Special Forces – and the terrible reputation earned by the Korean forces as a result of their actions during the country's dark period of military dictatorship…
To read on, click here.
Note: I will soon post a longer version of the story, with additional documents about South Korea's Special Forces I obtained under the Freedom of Information Act.
UPDATE: U.S. general admits he misspoke about North Korea spying