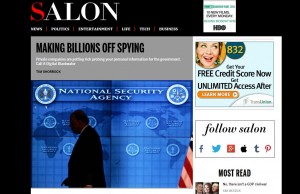 My latest, in Salon. I was interviewed about this article today on Democracy Now!
"The largest concentration of cyber power on the planet is the intersection of the Baltimore Parkway and Maryland Route 32," says Michael V. Hayden, who oversaw the privatization effort as NSA director from 1999 to 2005. He was referring not to the NSA itself but to the business park about a mile down the road from the giant black edifice that houses NSA's headquarters in Fort Meade, Md. There, all of NSA's major contractors, from Booz to SAIC to Northrop Grumman, carry out their surveillance and intelligence work for the agency.

With many of these contractors now focused on cyber-security, Hayden has even coined a new term — "Digital Blackwater" – for the industry. "I use that for the concept of the private sector in cyber," he told a recent conference in Washington, in an odd reference to the notorious mercenary army. "I saw this in government and saw it a lot over the last four years. The private sector has really moved forward in terms of providing security," he said. Hayden himself has cashed out too: He is now a principal with the Chertoff Group, the intelligence advisory company led by Michael Chertoff, the former secretary of Homeland Security.