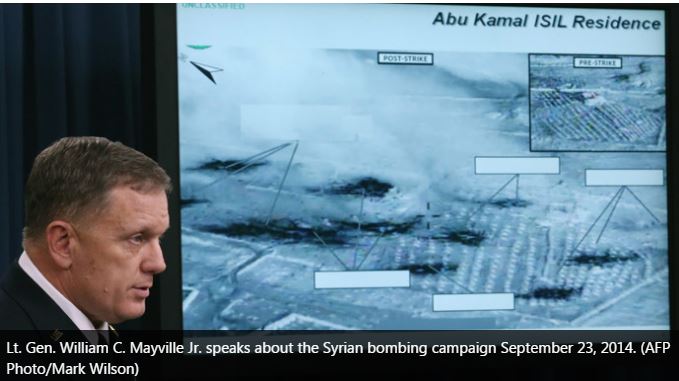 The US just launched a new air war against ISIS. This week, Bill O'Reilly proposed that Blackwater send its private sector mercenaries to fight. I don't know why; mercs are already there in force. My latest, from Salon:
A massive, $7.2 billion Army intelligence contract signed just 10 days ago underscores the central role to be played by the National Security Agency and its army of private contractors in the unfolding air war being carried out by the United States and its Gulf States allies against the Islamic State in Iraq and Syria.

That war was greatly expanded Monday night when U.S. forces launched a "mix of fighter, bomber, remotely-piloted aircraft and Tomahawk" cruise missiles against ISIS targets in Syria. The Central Command said the strikes were led by the United States with support from Bahrain, Jordan, Saudi Arabia, Qatar and the United Arab Emirates. (UPDATE: "NSA intercepts key to locating, bombing new al Qaeda group in Syria.")

INSCOM's "global intelligence support" contract will place the contractors at the center of this fight. It was unveiled on Sept. 12 by the U.S. Army's Intelligence and Security Command (INSCOM), one of the largest military units that collects signals intelligence for the NSA.

Under its terms, 21 companies, led by Booz Allen Hamilton, BAE Systems, Lockheed Martin and Northrop Grumman, will compete over the next five years to provide "fully integrated intelligence, security and information operations" in Afghanistan and "future contingency operations" around the world.

The NSA is best-known to Americans for its awesome power to spy on the electronic communications of governments and populations around the world. But it is also a critical part of the Pentagon chain of command, particularly during wartime, and collects most of its intercepted communications from a global web of listening posts and military intelligence units operated by INSCOM and the other armed services.

INSCOM, which was created in 1978, has been at the cusp of U.S. policy in the wars on terror from the initial campaign against the Taliban in the fall of 2001 to the latest war against ISIS. Much of the top-secret work under the new INSCOM contract will take place at NSA's networks of listening posts, and will "support complex, classified, compartmented, and/or unique ground-based and airborne reconnaissance and electronic intelligence collection and production systems," the Pentagon said.
To read on, click here.