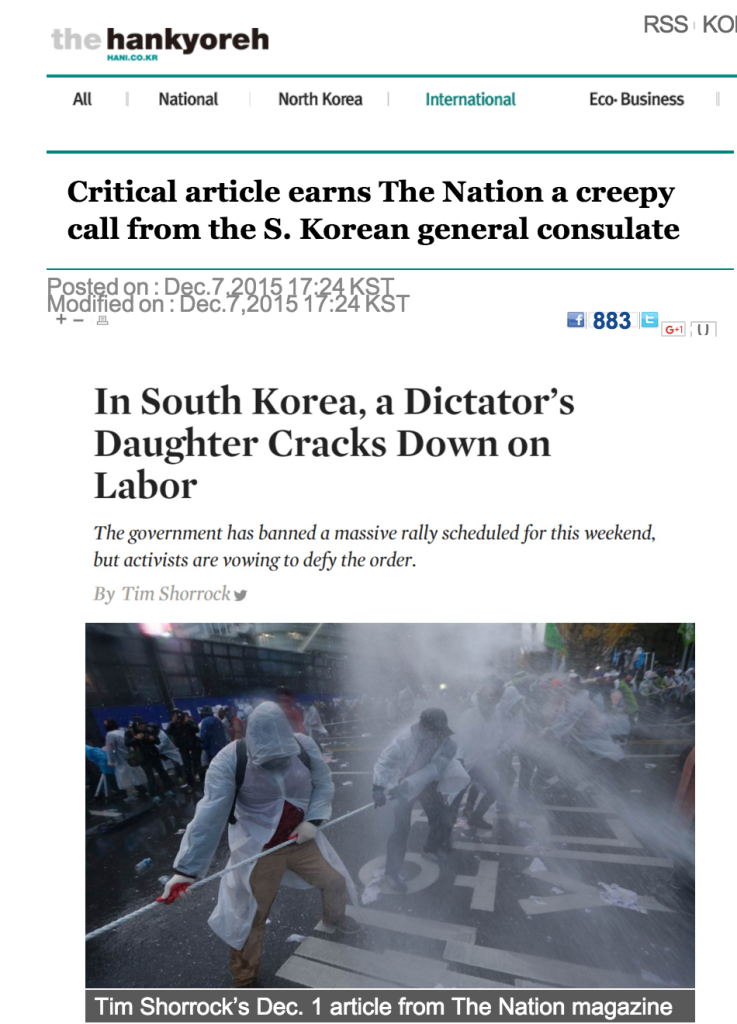 Over the last 10 days, I've been in the middle of a dispute with the South Korean government of Park Guen-Hye, which is none too pleased with my reporting on the political situation in South Korea. The government's calls to my editors at The Nation blew up in their faces by sparking a row with the Korean press and the South Korea's political opposition, both of which denounced the government for interfering with foreign reporting on Korea. I greatly appreciate the show of solidarity, which tells me that democracy is still alive and kicking in South Korea.
For me, the most touching tribute was a graphic spread prepared by Hankyoreh, South Korea's only independently owned daily newspaper, of my reporting on the United States and Korea over the years. In all my years in journalism, this is one of the greatest honors I've ever received, and I thank Hankyoreh's editors for recognizing my contributions. But the solidarity is mutual. As I concluded in an essay I wrote for OhMyNews,
Last May I was made an honorary citizen of the City of Kwangju. So I feel like I'm a citizen of both Korea and the United States – and as a citizen and a journaliist, it's my duty to shed light on what's wrong with both of our countries and seek ways to make us better. No government should be afraid of the truth. 
Here's the run down about what happened.
The fun started on December 1, when I posted a story at The Nation magazine's website called "In South Korea, a Dictator's Daughter Cracks Down on Labor." This is how I began:
Following in the footsteps of her dictator father, President Park Geun-hye of South Korea is cracking down on labor and citizens groups opposed to the increasingly authoritarian policies of her ruling "New Frontier" party known as Saenuri.

The situation could reach a critical point this weekend, when tens of thousands of workers organized by the Korean Confederation of Trade Unions (KCTU) join forces with farmers, students and other civic organizations in a national action in Seoul to protest Park's conservative labor, education and trade policies.

On Saturday, the Seoul Metropolitan Police Agency banned the march, with Park's Justice Minister Kim Hyun-Woong vowing to "uproot illegal and violent demonstration…no matter how much sacrifice is required." Meanwhile, the President herself equated the protesters – some of who wear masks as protection from riot police – to terrorists.

"Given that the extremists of the Islamic State group hide their faces, we should ban demonstrators from wearing masks in the future," Park said, before flying off to Paris for this week's Climate Change Conference. She last visited Washington in October, when President Obama, her country's strongest ally, promised that the United States "will never waver" in its commitment to South Korea. (Note: the December 5 demonstration took place as planned, with no interference from the government).
I went on to describe the legacy of Park's father and the fact that he was assassinated during a turbulent time in 1979 when South Korean workers and unions were massing in the streets to protest his repressive policies and demand a return to democracy. A few days later, I was interviewed on HuffPostLive with Hyun Lee, a Korean journalist in New York City.
For some reason, my article drew a complaint from the South Korea Consulate-General in New York, which contacted my Nation editor a few days later. Apparently the consul was asked to make the call by his home government after my original article was translated into Korean and then went viral when OhMyNews, a major news site in South Korea, posted the story.
When I heard about the Consul's call, I took to Facebook to describe what happened. Next thing I knew, the story, and my posting, had gone viral in Korea. One of the most circulated articles was an interview I did with Og Lim, a Boston-based citizen journalist who works with NewsPro, an organization that translates important English-language articles in Korean. My story also appeared in Huffington Post Korea.
Here's how the brouhaha was reported by Hankyoreh. The story had a great headline: "Critical article earns The Nation a creepy call from the S. Korean general consulate":
The South Korean consulate general in New York City called and emailed The Nation magazine to protest an article it had printed criticizing the Park Geun-hye administration's demonstration suppression tactics, a journalist is claiming.

Tim Shorrock, the freelance contributor who wrote the piece, posted the allegations on his Facebook page on Dec. 4. Shorrock wrote a piece that ran in the weekly's Dec. 1 edition titled "In South Korea, a Dictator's Daughter Cracks Down on Labor."

"Just got a note from my editor at The Nation saying the Park government has complained to them vociferously about this article," Shorrock wrote on his page.

Shorrock went on to quote the editor's note.

"I received an e-mail, followed up by a phone call — actually, a spate of phone calls — from the Korean Consulate General here in New York wanting to have a meeting, in our office, with me 'to discuss' [Shorrock's] article," it read.

"The man I talked to on the phone did not go into any details, nor did he point out — or even claim — that there were factual errors. Just vague words along the lines of the 'remarkable progress Korea has made over the past four decades,'" it continued.

Following the quote, Shorrock wrote, "Thanks to the Korean netizens who immediately translated the article into Korean and spread it far & wide! Words have power. Maybe even President Obama can listen."
I picked up the story in my OhMyNews essay: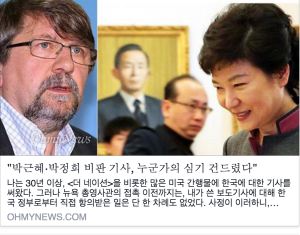 When I heard last week that the South Korean Consulate in New York had contacted my editors at The Nation about my article on President Park Guen-Hey's crackdown on the labor movement, I was surprised and a little shocked. I've been writing about South Korea for over 30 years for the Nation and other US publications. But until this call, I'd never heard a direct complaint about my article from the Korean government. So I wondered: why did this article catch their attention?

From what I've been able to piece together, the person at the Consulate contacted my editors on direction from his boss in Seoul. But he wasn't contacted until after my article had been translated into Korean and posted on the Internet, drawing thousands of readers and comments. My article, which was quite critical of the Park government and included many details about her dictator father, Park Chung Hee, apparently deeply offended someone inside Park's foreign ministry, which then instructed the Consulate to complain to the Nation.

Aside from the fact that I refered to "a dictator's daughter," however, there was little in my article that was new or unusual. I believe that it caught the government's attention because it was so unlike most reports about South Korea in the U.S. press. For the most part, American reporters in Korea see the country only in Cold War terms, with the "bad" North Koreans always the villains and the "good" South Koreans always the victim of those villains. And of course they consistently see the United States as the ultimate champion of "good" South Korea.
In any case, the reports about the Consulate General calling The Nation drew scathing denunciations from Hankyoreh and Kyunghyam Daily. Here's Hankyoreh, in an editorial called "With foreign media missteps, Park government bringing shame on itself":
While it is impossible to know whether the consulate took this action on its own or was instructed to do so by a higher authority, it is not only inappropriate but also disgraceful for one country's diplomats to comment on the editorial position of a magazine in another country.

The important thing is to avoid actions that the foreign media will criticize, not to complain when the foreign media runs critical stories on those actions.

Just like the [recent] editorial in the New York Times criticizing the administration of President Park – saying that "the biggest risk to South Korea's reputation abroad, however, is not economic but political" – and a sarcastic tweet by the Wall Street Journal Seoul bureau chief about Park's comparison of masked protestors to terrorists, this ought to be viewed as a lesson in what not to do.
Kyunghyang was just as scathing. As translated by a friend, it said "it's shameful to call The Nation. And they also argued that President Park made its diplomats do stupid things just as her father did during Yushin period" of Park Chung Hee." Meanwhile, the independent investigative news site Newstapa ran a detailed video story about the Park government's critique of press coverage that included an interview with me at the end (in Korean, with me in English).
After this, the political opposition took up the issue. As reported by the television network KBS,
South Korea's main opposition political party, New Politics Alliance for Democracy has called for an investigation into government attempts to silence foreign journalists critical of the Park Geun Hye administration.

This follows the revelation that US-based journalist Tim Shorrock's editor at The Nation received phone calls from the Korean Consulate in New York calling on him to change the content of an article describing the recent crackdown on organized labor.
Last week, E-Woong Koo, a Korean writer who wrote an opinion article for the New York Times on Park's attempt to rewrite history, published an important article on his own website, "War of Words of the State of South Korea." His words are timely:
There are troubling reports that the government tried to influence the editorial staff at The Nation and its writer Tim Shorrock after the magazine ran Shorrock's article "In South Korea, a Dictator's Daughter Cracks Down on Labor."

That revelation, coupled with known information about standard government and corporate control over domestic journalism, paints a dreary picture of the state of free expression in South Korea. All this leads me to view the consul general's letter to the editor of the NYT as a very positive development. In this case the government chose to address a critical editorial in a reasonable fashion, by writing a public rebuttal, in lieu of any intimidation or subversion tactics that I am aware of (unless you see the mysterious call from the foreign ministry that went nowhere as a form of intimidation).

I am sad, however, that this kind of dialogue must and can only take place in the pages of a foreign newspaper. It is downright tragic that the only way to force the government to enter into what could be a meaningful conversation over matters of national importance is subjecting the government to 'bad press' for readers outside South Korea to see.
Well said; hopefully the South Korean government will learn from this.