I just published a story at The Nation about the recent kidnapping of three U.S. contractors in Baghdad. The tale underscores an important truth about the vast expansion of military contracting in war zones over the past 15 years: it's an extremely dangerous occupation.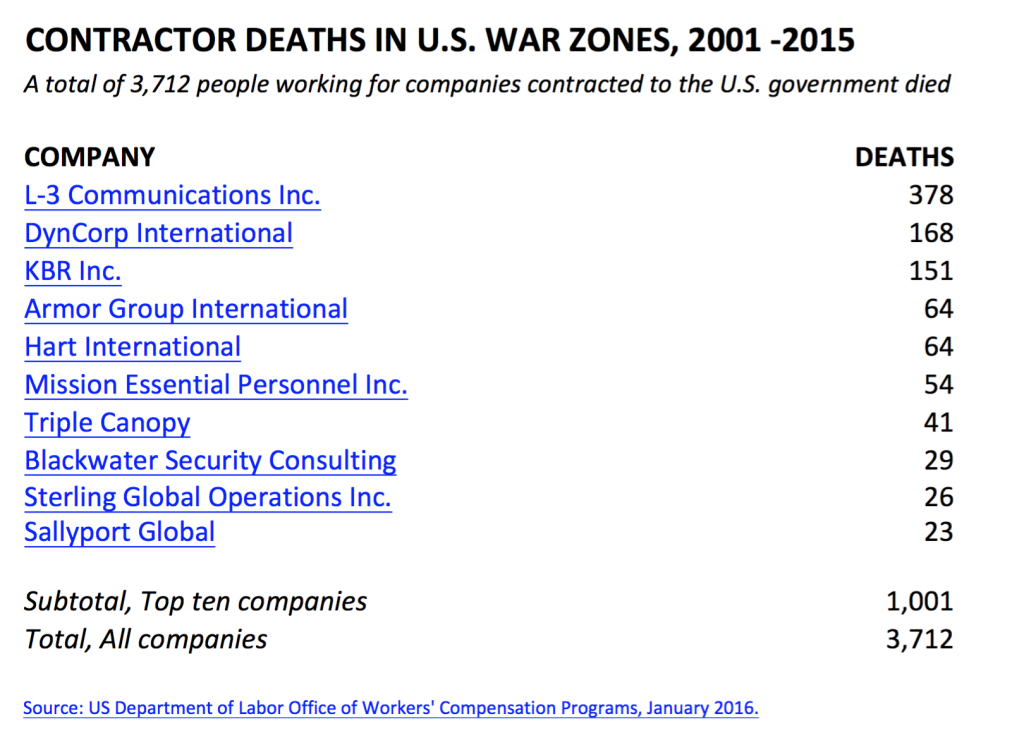 According to the latest statistics compiled by the Department of Labor, 3,712 people working for US and foreign companies under contract to the Pentagon and other US agencies were killed between September 1, 2001, and December 31, 2015. Not all are American; the numbers include citizens from dozens of countries who were caught up in the war as contractors for U.S. and foreign companies working for the U.S. government.
"Most of the killed are local nationals," who make up most of the work force and are predominantly translators and truckers, said Doug Brooks, a Washington consultant and the former president of the International Stability Operations Association, which represents dozens of private security contractors in Washington. Brooks said the Department of Labor numbers, which are compiled by DOL's Office of Workers' Compensation Programs, are considered accurate by the contracting community.
Most of the contractor deaths—3,259—took place in Iraq (1,630) and Afghanistan (1,629), where the United States has been at war for most of the past decade. Large numbers of contractors also lost their lives in Kuwait, Pakistan, Saudi Arabia, and Jordan. In comparison, over 6,800 US soldiers were killed in Iraq and Afghanistan between 2001 and 2015.
Companies linked to L-3 Communications, a key Pentagon and intelligence contractor, accounted for 378 of the contractor deaths – more than any other single company. Most of its dead worked for L-3's Titan unit, which provided thousands of interpreters and linguists who served alongside US troops in Iraq and Afghanistan. (L-3 had no comment, but a spokeswoman noted that Titan was acquired by L-3 in 2005 and spun off in 2012 as Engility Holdings Inc.)
DynCorp International, the single largest US contractor in Afghanistan and a major contractor in Iraq, lost 169 people.
The third-highest total, 151, were working for KBR Inc.,,the former subsidiary of Halliburton that became notorious for winning Army logistics contracts in Iraq due to its close ties to former Vice President Dick Cheney. Nearly all of that total, 140, were employed by KBR subsidiary Service Employees International Inc. It was a major provider to KBR of truck drivers, hundreds of whom were attacked during the early stage of the Iraq War.
Also high on the list is Blackwater, the notorious contractor, now known as Academi. It listed 29 deaths.
Click here to read my story. Below is annotated version of the chart pictured above, with links to all the companies listed.