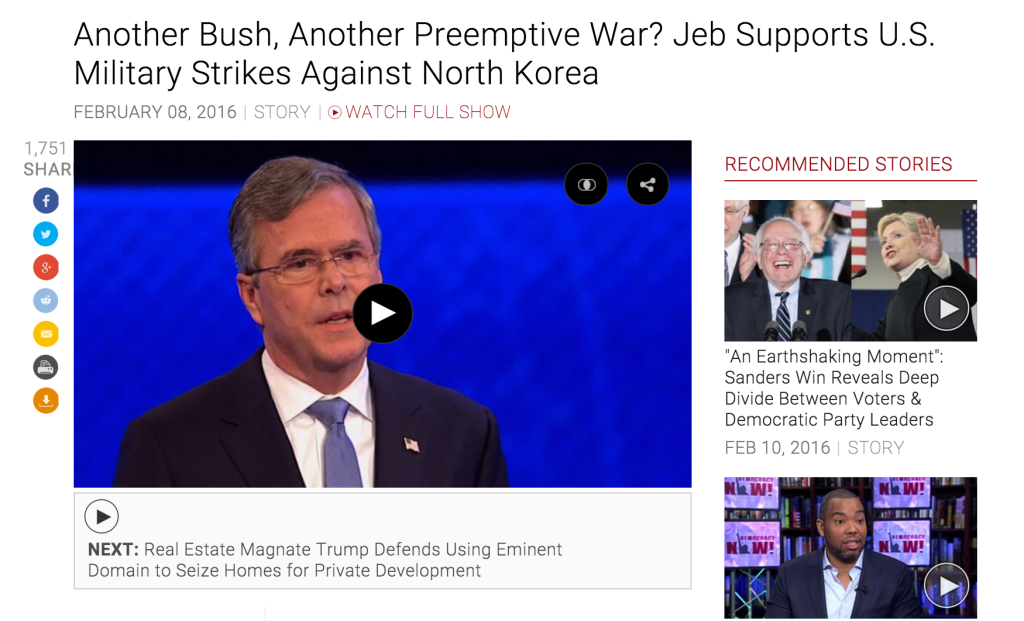 North Korea's rocket test and satellite launch on Saturday has deepened tensions on the Korean Peninsula and led to today's closure by South Korea of the Kaesong Industrial Zone, the last remaining project from the days of Kim Dae Jung's Sunshine policies.
Yesterday on Capitol Hill, James Clapper, the Director of the Office of National Intelligence, said the launch and a subsequent discovery that the DPRK is starting up its plutonium plant means that "the Obama administration now regarded the reclusive government in Pyongyang, rather than Iran, as the world's most worrisome nuclear threat." On Sunday night, North Korea was the subject of several questions during a contentious Republican presidential debate, during which Jeb Bush said he would support a preemptive strike on the DPRK's nuclear facilities.
So naturally, on Monday morning I was called up by Democracy Now to talk about the latest crisis. Most of the questions focused on what was said during the Republican debate. Here's the segment and the full transcript of my interview.  The money quote:
The response by the Republicans is scary and frightening, that they would call for a preemptive strike on North Korea when there's a situation highly—you know, highly volatile situation on the Korean Peninsula, with millions of innocent people within a hundred miles of the DMZ between North and South Korea. To call for a war that could affect—kill hundreds of thousands of people in the first few minutes is ridiculous.
I should have said "criminal," because that's what it is.