The wars drums are beating in Pyongyang and Washington, and the official media in both North Korea and the United States are eating it up. Time for a little sanity: a guest post by my colleague Simone Chun.
"Heart speaks to heart."
By Simone Chun
The latest sanctions on North Korea are having immediate effects, including jingoistic reports from the foreign media on Korea and the halting of humanitarian aid to the North from international NGOs. Now is the time to bolster efforts to promote humanitarian and people-to-people exchange with North Korea: it's the only channel left under the current political climate. Here's the latest:
The bellicose and jingoistic U.S. media's spin on recent events on the Korean peninsula: Mark Thompson in Time: "Is It Time to Attack North Korea?"
Taking out North Korea's two major nuclear sites with air strikes would be dangerous but probably not too difficult, U.S. officials say. The possibility of North Korean retaliation against Seoul, South Korea's capital of 10 million and only 35 miles from North Korea, would be a complicating factor, they concede.
The latest humanitarian crisis for North Korea: The Washington Post on North Korean tuberculosis patients at risk as sanctions hamper medicine shipments:
The lives of more than 1,500 North Korean tuberculosis patients are at risk, an American-run humanitarian foundation said Wednesday, because tough new sanctions are stopping medicine from getting to sick people."…"Unless something is done quickly, our patients will fail treatment and die," said Stephen W. Linton, chairman of the foundation. "Short of all-out war, I cannot imagine a greater tragedy for the Korean people."…"These people need additional medication to finish the program, and if they don't get it, they run the risk of developing additional resistance and dying," Linton said. "Should they return home to die, everyone who comes into contact with them will be at risk of contracting this particularly dangerous type of 'super-TB'?" he said.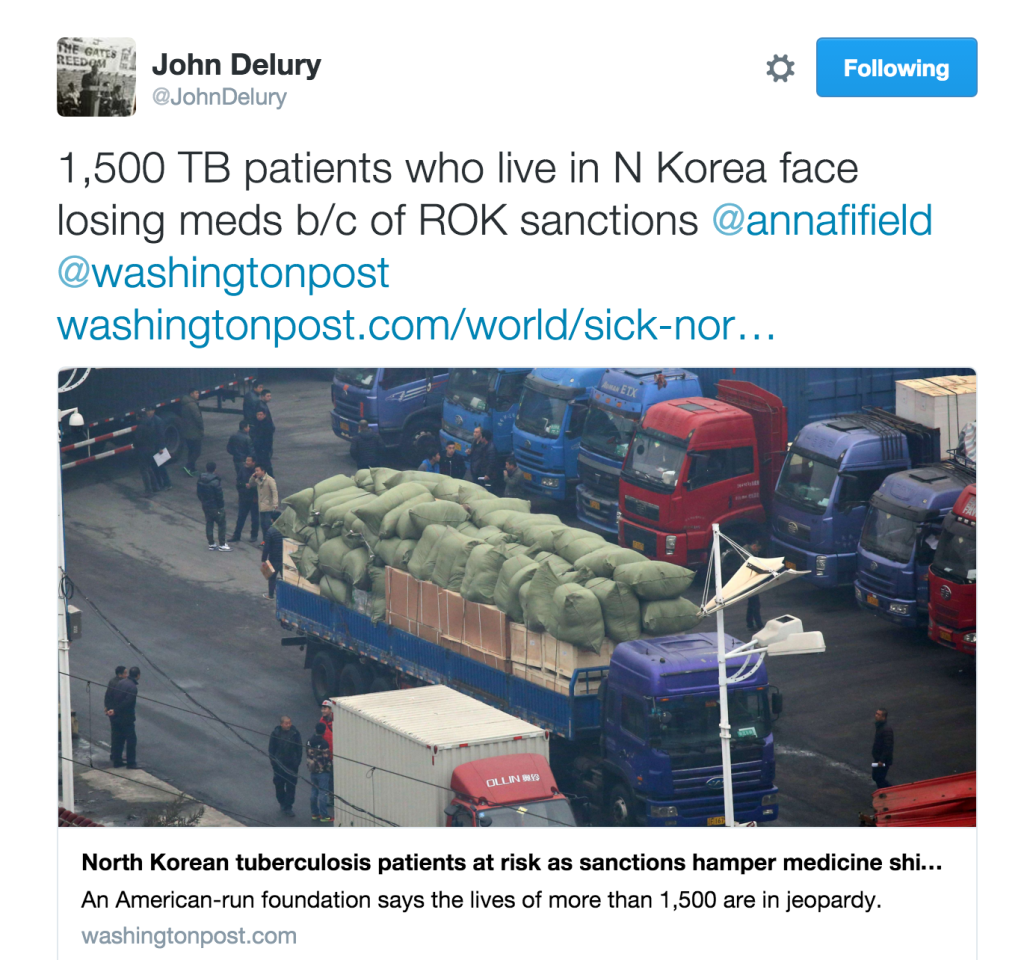 "Heart speaks to Heart" – From the Catholic Herald, Father Gerard Hammond, American Maryknoll missionary, visits North Korea as a silent 'apostle of peace'
Maryknoll Father Gerard Hammond, 81, who has lived in South Korea since 1960, first crossed over into the North in 1995 and since then has made 51 trips. During Pope Francis's visit to South Korea this month the Pope met Fr Hammond and personally thanked him for his work in the North…. "You're present to a people whom you cannot speak to and they can't speak to you, but it's the old adage: 'heart speaks to heart,'" he said. "They see compassion. Well, they're in a country where they're told that [the late dictator] Kim Jong Il gives them everything. But then they see, well, in this case he isn't. So you're also creating a thought pattern in their own life: 'What do these people help bring us? What are they doing here?'
Pay attention: the real story is not being told by the U.S. media. Don't let pro-war reporters lead us into another conflagration. Over 3 million Koreans died in the Korean War. Here's some thoughts from the Korea Peace Network, an initiative of the American Friends Service Committee and other peace organizations.