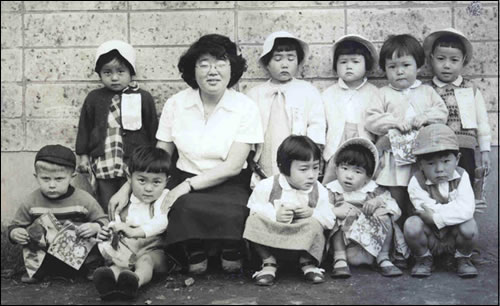 I grew up in Tokyo, Japan during the Cold War, spending 12 out of my first 18 years in that great city, which I love dearly and is really my home town even though I live more than 10,000 miles away (in Washington, D.C.). My parents initially went to Japan as missionaries in 1947 and remained there, except for brief stints in Seoul, South Korea, and Geneva, Switzerland, until 1969. Tokyo means a lot to me (that's me in the picture above, at my Japanese nursery school). Tokyo is where I bought my first guitar, where I first got laid, where I first smoked cigarettes (which I quit 20 years ago), where I first listened to Bob Dylan, where I saw the biggest demonstrations I have ever seen in my life – basically where I first started living. A lot of my worldview was shaped there, riding the trains, watching ordinary people mass in the streets to protest the Japanese government's utter subservience to US foreign policy and its complicity with the war in Vietnam, eating ramen and domburi delivered in porcelain bowls by wiry guys on bikes who picked them up the next morning from our back porch, watching people living in tiny spaces and cramped quarters but getting along very well; and so on. I still go back now and then, have good friends who live there, and often refer to my experience in my writings (see below). Tokyo is part of my roots, its where I came from.
Relevant links:
John Cornyn, George Wallace and Me (Texas Observer 6/7/02)
Suggested reading list on Japan (Japan Policy Research Institute)
A PHOTO SPREAD – TOKYO 1947-1968
Many of these photos were taken by my dad in Occupied Japan – 1947 and 1948 – a few others date from my childhood in Tokyo.