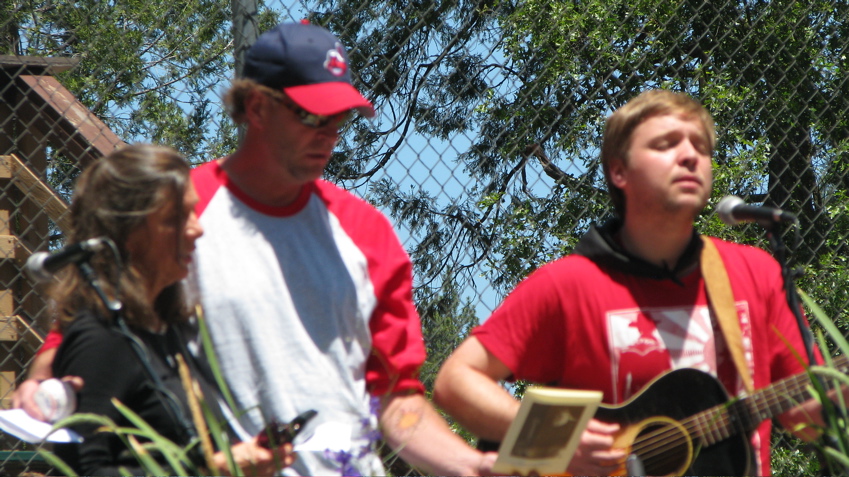 Hundreds of people from far and near came to the Nevada City, California, Little League park Sunday morning to say farewell to the late, great folksinger and organizer extraordinaire, Utah Phillips.
I drove 80 miles from Truckee to pay my respects. I first heard Utah Phillips play and sing when I was living in Eugene, Oregon, during the 1970s, and was impressed by his stories about being a US Army soldier in South Korea right after the Korean War, and how that experience made him a pacifist and a radical. As someone who was also transformed politically by living in Korea and has written extensively about the U.S. role in South Korea, that meant a lot to me.
At the service today and a concert on Saturday night, the crowd was treated to moving and humorous tributes from Utah's family and his very wide circle of friends and comrades. There were representatives from the Industrial Workers of the World (IWW), Utah's union, who spoke of Utah's love and respect for the great socialist leader Eugene Debs and sang Utah's favorite Wobblie songs, like "Dump the Bosses Off Your Back" and "Hallelujah, I'm a Bum." Tony Roark, an IWW member from Salt Lake City, spoke of Utah's "enthusiasm for the struggle" and quoted his favorite Utah line: "When I rise, it will be with the ranks, not from the ranks." Mark Ross, an IWW member and close friend who'd known Utah since 1969, joked that Utah "taught me to drink whiskey and not vodka, so people would know I was drunk and not stupid."
There were members of the Rose Tattoo, a group of musicians and racounteurs from Canada, Minnesota, Kansas City and many points in between, who sang and talked about riding the rails and Utah's deep respect for workers, labor unions, and the common man (and woman) – and his jokes ("Never wear a hat that has more character than you") and aphorisms ("If we all stick together, we'll get what we need.") At the urging of Utah's sister, a toy rocket was fired into the sky during the "seventh inning kvetch." Earlier, the service had opened with a ceremonial pitch from a member of the Nevada City Indians. Utah, it was said, "loved the purity of Little League" and went to nearly every game when he could.
There was a sign up on a fence: "Why are there no Republican folksingers?"  Amy Goodman of Democracy Now!, who ran a great interview last week of Utah Phillips, was in the crowd for a while, taking notes on her laptop and greeting locals, who had just heard her speak a few nights before at a benefit for the local community radio station, KVMR-FM.
John McCutcheon, the folksinger, baseball fan and labor organizer, spoke about how, for Utah Phillips, music was "more than applause and a paycheck, it was about the possibility of community. He created a template for the folk music community and for America." He also read a tribute from Ani DiFranco, who promised Utah she would "continue doing your work while you rest." Utah, said McCutcheon, is now "singing in time with Joe Hill, Mother Jones and Woody Guthrie."
People also spoke from the local library, the local peace center, the local cardiac rehabilitation center, the local homeless shelter, all recounting Utah's contributions and love for humanity ("He was available to anyone who wanted to sit down and talk"…The library "was the one government institution Utah really cared about.") There's more here from the Nevada City Union.
Finally, Utah's widow, Joanna Robinson, offered a moving tribute to Utah, or Bruce as he was known to family and friends. She remembered his songs of death, love and loss, and his advice to "never count anybody out…loving people as they are, and not the way they want them to be." She was joined on stage by Utah's two sons, Brendan and Duncan. Brendan led the crowd in one of Utah's most beautiful songs, Hymn Song, with its haunting chorus: "I believe if I live my life again/I'd still be here with you." Rest in peace, Utah Phillips.
Click each photo to see a larger version: