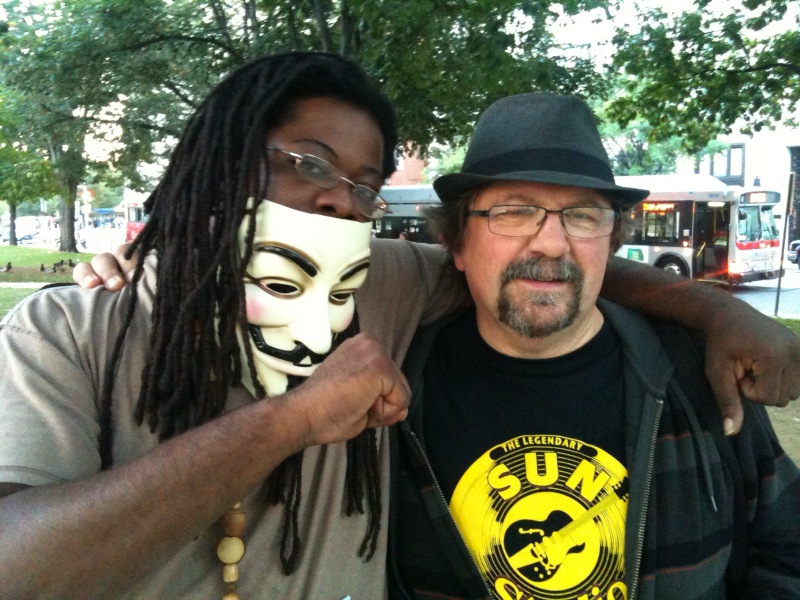 I've been around the left for a long time and have participated in dozens, probably hundreds, of actions in Washington over the years. Suddenly last week it looked like we were about to have another major convergence – the DC version of the Occupy Wall Street movement in New York (#OccupyDC) with the October 2011 "Stop the Machine" movement focused primarily on ending war and funding human needs. From the spontaneous beginnings earlier this week of the former, it began to be clear that the two encampments would be separate. It pretty much stayed that way all week, causing confusion with both demonstrators and the media. And therein lies a problem.
The protests in New York City that captured the attention of the nation had an immediate and central focus: the crimes of the country's largest banks that created the current financial mess and have been coddled and protected by the U.S. government and the Obama administration from investigations and prosecutions. The DC movement that came into being in response was similarly focused and organized. It borrowed much of the style of the New York protests, including the wonderful "peoples' voice" method of public speaking, where one person's words are amplified, line by line, by the surrounding crowd. It occupied McPherson Square, smack in the middle of downtown DC. The Stop the Machine crowd made its camp at Freedom Plaza on Pennsylvania Avenue, just across the street from the Washington, D.C., city government building and halfway between the White House and the Capitol (some good pics of the gathering are posted here).
On Friday, I couldn't stay away from the twin encampments anymore, so I packed my ukelele and a bunch of song lyrics plus some water and headed down in the Metro. With all the talk of revolution and uprisings on the Internet and Twitter, the trains were remarkably quiet. There was absolutely no sign at all that DC was a scene of protest, and the train was filled mostly with the city's working class, shuffling up and down between DC and its Virginia and Maryland suburbs. Not a good sign, I thought. I finally saw glimpses of protest at Metro Center in the form of T-shirts worn by people who'd just been at Freedom Square: "No Oil from Tar Sands," "Stop the Drone Wars," etc.
I then wandered into the Freedom Plaza encampment. The last of that afternoon's speakers were on stage, apparently representatives from Native American groups that had expressed support. But the square was otherwise quiet; in every corner, the organizers had set up space for about a dozen meetings on everything from media to labor organizing. It was all very sedate. And seemed almost devoid of spontaneity. I could see this was the established left. In the center of the square, for example, was the Code Pink encampment, and its ubiquitous spokesperson Medea Benjamin sat in a large couch holding court, chatting on the phone and tapping on her laptop. Most everyone in the square looked to be around my age and generation. Stop the Machine is well-organized, almost to the minute, and clearly The Old Left. It's where all the stalwarts who've been around for years to their talking: Ralph Nader was the big draw on Saturday, for example.
I didn't feel like sitting in on any of the Freedom Plaza meetings, so I strode around strumming my ukelele and singing old Wobblie songs and one of my all-time favorites, Bob Dylan's "Masters of War." People on the edges responded well, wanting more. At one point I ran into a small group of people from Wisconsin who were part of a Vets for Peace delegation. They pulled out kazoos and played along. Then a young woman, clad in a bikini top and shorts, came over and asked me if she could dance. Of course, I said, and she did. That was a high point of the afternoon for me – singing "you fasten all the triggers/for the others to fire/while you sit back and watch/while the death counts gets higher" and other great verses while my young comradette danced along and the grizzled vets blew on their kazoos.
As we were playing, suddenly a crowd of about 20 people from the OccupyDC encampment marched through the plaza, trying to recruit people to their march to the IMF. Nobody joined, and they walked on to their destination (which had been the topic of considerable discussion on the OccupyDC website forums – you can find my comment under "Tim" in the segment).
A bit later I came upon some drummers and jammed with them for a while. That caught the attention of the otherwise desultory crowd, and a few demonstrators came over to dance and join in. A TV crew from Germany filmed us. We were making some great music; but alas, the organizers on stage had other ideas. To fill the time while they waited for the next round of speakers, and apparently not even seeing that some people were enjoying themselves, they began blasting heavy metal (I'm sure it was politically correct heavy metal though) to the point that it impossible to play or talk any more. I put down my instrument and kept walking – and was grabbed by the German crew and interviewed.
By that point, the Very Important Meetings were breaking up, but nothing seemed to be happening. So I decided to head over to McPherson Square just north of the White House to see what was happening there. On my way, I met up with the IMF marchers, whose numbers had grown considerably, on K Street. They marched on the sidewalk, chanting loudly, and spilled a little into the street. They were surrounded by cops, lights flashing and sirens bleeping. There were lots of kids playing guitars (even a couple more ukeleles). I joined in; it was nice to finally be in an actual demonstration.
Back at McPherson I took in the scene. In contrast to the Old Left at Freedom Plaza, this was mostly the young: students, youthful activists, hippies. There was a semblance of organization – food tables, water and medicine booths – but none of the rigid time schedules and controlled messages on display at Pennsylvania Avenue. Here also there was lots of people clearly new to politics and the left, but they wanted a voice and were in DC to speak out and to learn. The mood seemed far more spontaneous and celebratory than the staid gathering at Freedom Plaza I'd just walked through.
And there was lots of music and spirit. As I'd done at the other encampment, I strolled around strumming and singing. But here people picked up on the music and joined in. One guy started beating on spoons for rhythm. Another kid carrying a Martin guitar joined in. Then a black kid with dreadlocks and an Anonymous mask walked by and heard the words – "Masters of War" again. He joined in. I gave him the words, which I'd printed out on a sheet, and asked him to read each line (that's us in the picture above). And as he did, I sang in response. Pretty soon we had a fantastic "peoples' voice" version of the song going. It sounded very powerful, and we did it again and again. As we wound down, that night's "peoples' assembly" began, in part to discuss the next day's activities (which included a march to the Egyptian Embassy in solidarity with Egyptian activists in town – a suggestion made at the assembly by several participants).
In a nutshell, I'd characterize the split in the Occupy DC movement as between the Old Left and the New Left. I'd like to see more unity between the two – and I think it's a crying shame the two couldn't have come together for one big encampment. According to my friend Bob, there was a good march on Saturday from one occupation to the other, which was a positive step. At same time, each group has a lot to learn from the other. It's important, as the Old Left group is, to be focused on U.S. foreign policy and the wars abroad that are bleeding the country and killing so many innocents. But it's also important, as the Newer Left is, to be sp0ntaneous and open and (to my eyes anyway) more joyous. We need new faces, new ideas, new voices, new actions – not the same old same old.
And a postscript: Saturday afternoon I saw this headline on the local newspaper in Frederick, Maryland, a semi-rural community about 25 miles north of DC: "Bank of America cuts 20 local jobs."
Twenty employees at the Bank of America home loans office at 5300 Westview Drive will lose their jobs beginning Nov. 7.Scott Wallace, manager of the Dislocated Workers Service Unit, Maryland Department of Labor, Licensing and Regulation, said the state was notified on Sept. 27 of the personnel cuts.

"They are the only cuts in Maryland by Bank of America," Wallace said Friday. Bank of America said it is cutting 30,000 jobs in the next two years.
This is happening everywhere, folks, and these are the people our movement has to reach. These weeks in DC and elsewhere around the country are exciting times for activists – but we in the broader peace, antiwar, labor and economic justice movement have our work cut out for us. Demonstrating against drones or demanding that rich, corrupt bankers go to jail is all good; but winning a majority is part of the long slog ahead. Let's make it happen – singing all the way!