Palantir Technologies and Booz Allen Hamilton, for starters. My latest in Salon on what NBC's isn't telling you about their oh-so-objective national security analysts.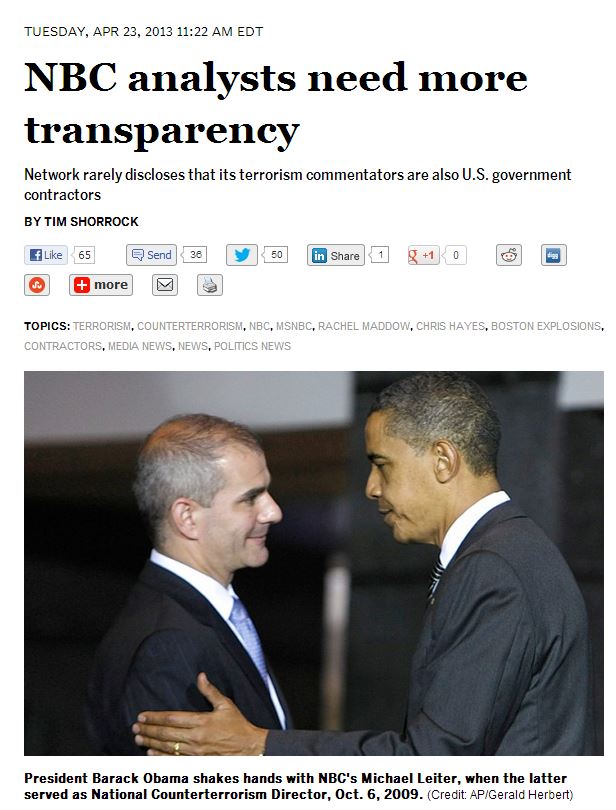 Compared to the near-hysterical reporting on Fox and the mistake-prone efforts at CNN, the handling of the Boston Marathon attack and investigation by NBC (and sister cable channel MSNBC) was straightforward and subdued — thanks in large part to its experienced reporting team and in-house national security analyst, Michael Leiter. Leiter, who started at NBC last fall, is the former director of the National Counter Terrorism Center (NCTC), the inter-agency situation room in Northern Virginia where the U.S. government synchronizes all of its intelligence analysis. During the week, he was a constant presence on both NBC and MSNBC, providing extensive details about what was likely unfolding on the ground.
On Wednesday's NBC Nightly News, for example, Brian Williams brought Leiter on to explain how investigators should deal with the evidence they had collected so far, including "tons of imagery" and backpacks, wires and a battery left by the bombers. Would all of that be a "big early help"? Absolutely, replied Leiter. "All of that imagery from the store, from the police and from people, you combine that with the forensic evidence and then the secret intelligence that we are not hearing about from human intelligence sources, cell phone records, things like that," he said. "And that starts to paint the mosaic from which they can find their suspect." He provided much of the same information later on MSNBC's evening broadcasts and over the weekend on the Today Show.
In introducing its analyst, however, NBC failed to mention a crucial piece of information: he is not just a former director of the NCTC, which he ran from 2007 to 2011, but remains an active player in the intelligence contracting industry as a high-ranking executive with Palantir Technologies Inc.
Palantir, which was initially funded by In-Q-Tel, the CIA's venture capital fund, has become widely known in defense and intelligence circles for providing – and pushing hard, to market – critical technology used by U.S. forces in Iraq and Afghanistan to identify and hunt down terrorist networks that build improvised explosive devices (IEDs). In other words, Leiter's company was initially financed by — and contracts with — U.S. intelligence agencies.
Specifically, Palantir sells a powerful line of data-mining and analysis software that maps out human social networks for counter-intelligence purposes. Its customers, which also come from the financial industry, include the FBI, CIA, the U.S. Special Operations Command, the Army, Marines and Air Force, as well as the police departments of New York and Los Angeles – some of the very agencies Leiter is asked to assess on television.
In fact, Palantir may have provided some of the very technology that the government used in its efforts to track and find the Boston bombers – and, experts say, is probably being used by the FBI and other agencies right now in the widening investigation into their past and potential foreign connections.
But, despite the fact that he is commenting on entities to whom he may seek to sell his product (and in some cases already has), Leiter's dual role has not been fully disclosed. In all of his appearances on NBC, he is introduced as an "analyst" and the former director of the NCTC. That's how Brian Williams introduces him, and how he was presented on Saturday's Today Show by Savannah Guthrie. It's also how he was described during the week by MSNBC hosts Chris Mathews and Al Sharpton, and on Sunday's Meet the Press with David Gregory. To her credit, MSNBC's Rachel Maddow is the only NBC host to mention his corporate affiliation, adding to her introduction to him last Thursday that Leiter "works as senior counselor to a security company called Palantir Technologies." But how many viewers really understand what that entails?
"Leiter represents a company whose fortunes depend on contracts with U.S. intelligence agencies, and he's discussing related issues on-air," said Steve Rendell, a senior media analyst with Fairness and Accuracy in Reporting (FAIR), a New York organization that follow the media. "Viewers deserve to know that Leiter's company has a vested interest in the Boston story."
To read on, click here.