The Five Pure-Plays that Dominate US Intelligence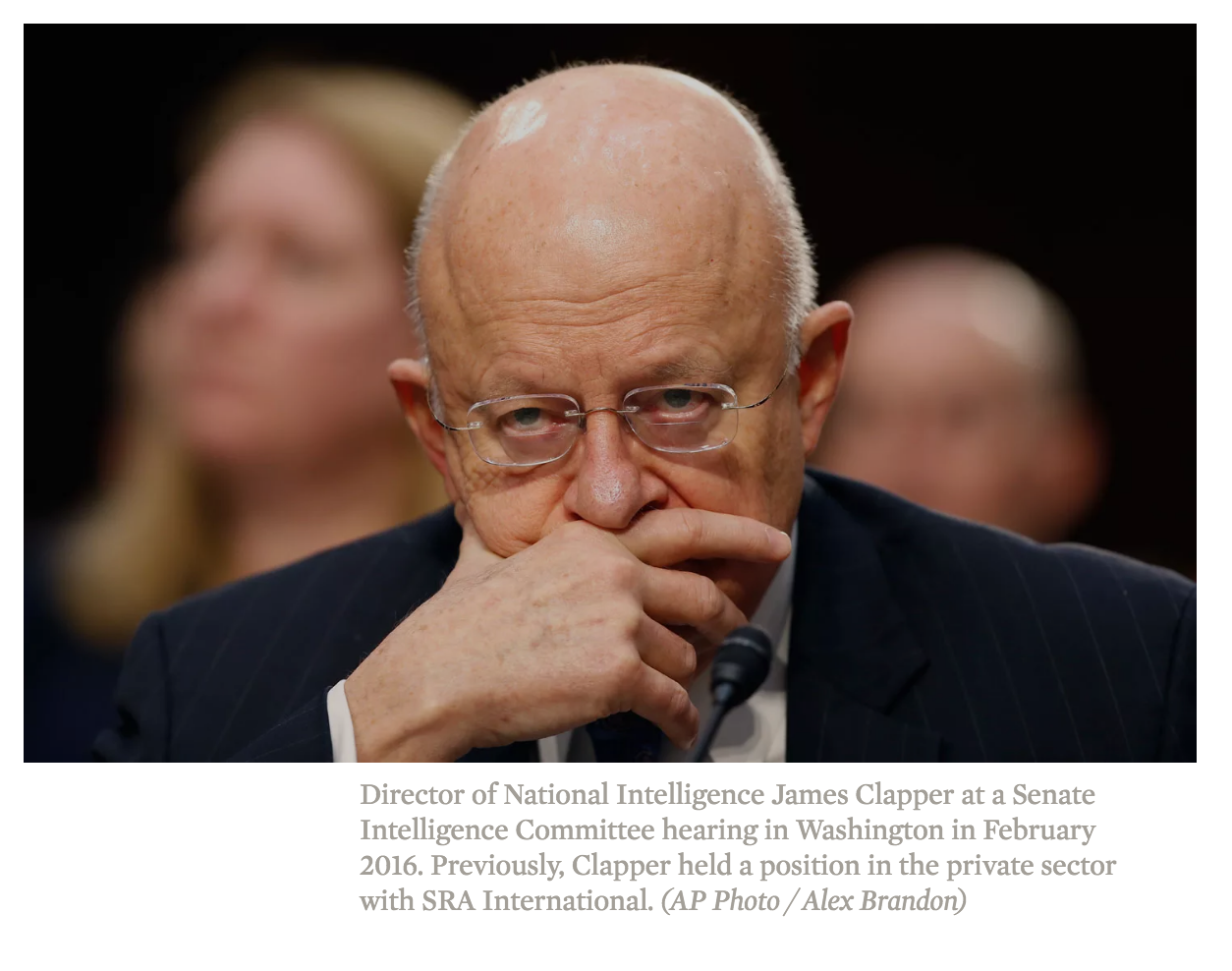 By Tim Shorrock
The recent integration of two military contractors into a $10 billion behemoth is the latest in a wave of mergers and acquisitions that have transformed America's privatized, high-tech intelligence system into what looks like an old-fashioned monopoly.
In August, Leidos Holdings, a major contractor for the Pentagon and the National Security Agency, completed a long-planned merger with the Information Systems & Global Solutions division of Lockheed Martin, the global military giant. The 8,000 operatives employed by the new company do everything from analyzing signals for the NSA to tracking down suspected enemy fighters for US Special Forces in the Middle East and Africa.
The sheer size of the new entity makes Leidos one of the most powerful companies in the intelligence-contracting industry, which is worth about $50 billion today. According to a comprehensive study I've just completed on public and private employment in intelligence, Leidos is now the largest of five corporations that together employ nearly 80 percent of the private-sector employees contracted to work for US spy and surveillance agencies.
Yes, that's 80 percent. For the first time since spy agencies began outsourcing their core analytic and operational work in the late 1990s, the bulk of the contracted work goes to a handful of companies: Leidos, Booz Allen Hamilton, CSRA, SAIC, and CACI International. This concentration of "pure plays"—a Wall Street term for companies that makes one product for a single market—marks a fundamental shift in an industry that was once a highly diverse mix of large military contractors, small and medium technology companies, and tiny "Beltway Bandits" surrounding Washington, D.C.
As I argue below, these developments are incredibly risky for a country more dependent than ever on intelligence to fight global wars and prevent domestic attacks. "The problem with just five companies providing the lion's share of contractors is that the client, the U.S. government, won't have much alternative when a company screws up," says David Isenberg, the author of Shadow Force: Private Security Contractors in Iraq.
Moreover, the fact that much of this privatized work is top secret—and is generally underreported in the press—undermines the accountability and transparency of our spy agencies. That should deeply concern the American public. "There's so much less transparency in intelligence than in defense," says William Hartung, director of the Arms and Security Project at the Center for International Policy and the author of Prophets of War, a study of the political and social impact of Lockheed Martin. "At least in Pentagon contracting, people can dig out conflicts of interest and cost overruns—the pieces of information you can use to get your hands on the problem."
Fortunately, there is plenty of public information to build a profile of these companies. I'll start this analysis with a closer look at the members of the new monopoly and a detailed explanation of how I reached my conclusions about their workforce.
• Booz Allen Hamilton, which has stood like a colossus over US intelligence as a contractor and consultant for over 30 years, is partly owned by the Carlyle Group, the politically connected private-equity firm. Booz is basically the consigliere of the Intelligence Community (known in Washington as the "IC"), serving "the Director of National Intelligence, Undersecretary of Defense for Intelligence, National Intelligence and Civil Agencies, and Military Intelligence," according to the company's website. And this work can be lethal: Under a contract with Army intelligence, Booz personnel "rapidly track high-value individuals" targeted by the US military in a system now "deployed, and fully operational in Afghanistan."
• CSRA Inc. was created out of a merger between CSC, which developed and manages the NSA's classified internal-communications system, and SRA International, a highly profitable company with a long history of involvement in intelligence, surveillance, and reconnaissance (ISR). Among scores of other contracts, CSRA, which has close ties to the US Air Force, provides 24/7 support for the "global operations" of US commands in Europe and Africa and, under a January 2016 contract, manages the "global network of intelligence platforms" for the most advanced drones in the US arsenal. And in a bizarre set of contracts with the Pentagon's prison in Guantánamo, it was hired to help both the defense and the prosecution in the military trials of individuals accused of planning the 9/11 attacks.
• SAIC is a well-known military contractor that has expanded into spying by buying Scitor, a company deeply embedded in the Pentagon's top-secret satellite operations. Scitor's real value for SAIC is its reach into the National Reconnaissance Office (NRO), which manages those satellites and integrates downloaded signals and imagery from space for the NSA and the National Geospatial-Intelligence Agency (NGA). SAIC's latest project: an $8.5 million contract from the Army's Intelligence and Security Command for "aerial ISR" in Afghanistan to be partly carried out at the NSA's huge listening post in Fort Gordon, Georgia.
• CACI International is the Pentagon contractor infamous for supplying interrogators to the US military prison at Abu Ghraib in Iraq. CACI recently acquired two companies doing extensive work for the NSA and the CIA: National Security Solutions (bought from L-3 Communications) and Six3 Intelligence Solutions. Both have given CACI new inroads into national intelligence. Six3, for example, recently won substantial contracts to provide "counterinsurgency targeting" to NATO forces in Afghanistan. It also just won a new Army contract to provide intelligence to US military forces in Syria—an indication of how deeply US forces are now engaged there. It's also the only contractor I know that quantifies its results: CACI's intelligence services have "identified more than 1,500 terrorists threatening our nation," it claims.
Together, Leidos and its four competitors earned nearly $16 billion from government IT contracts in 2015, according to an annual listing by the trade publication Washington Technology. But the key to their dominance lies not with their revenue but with their employees—specifically, their approximately 45,000 contractors with security clearances who work alongside government employees at the NSA, the CIA, and other agencies…
Click here to read on.