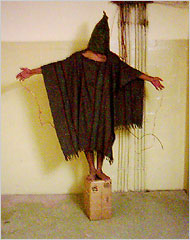 Read this unbelievable story from today's Washington Post: There's not much lower you can go as a company, or a contractor, or a country.
Weeks after winning dismissal of a case alleging that CACI International employees directed mistreatment of Abu Ghraib detainees, the company has asked its accusers to pay a $15,580 bill for legal expenses. Lawyers for the plaintiffs, all Iraqis who served time at the prison, opposed the request in a federal court filing on Monday…
According to a recent court filing, nearly two-thirds of the $15,580 bill relates to depositions CACI took, including costs for witness per diem fees and travel allowances as well as deposition transcripts. About $3,500 of the total would cover the costs CACI said it incurred for medical examinations and to hire an interpreter for plaintiff depositions. That figure, the filing added, includes a fee the company paid when examinations were canceled without enough advance notice. The plaintiffs oppose the move, arguing that CACI is out of time and that the request is unjust.
It gets worse. The Center for Constitutional Rights, which has fought for the Abu Ghraib victims since the awful story about contracted interrogation and torture was first revealed in 2004, said the effort "appears to me an attempt to intimidate the plaintiffs." Exactly. But then Public Citizen chimes in with its typical white-privilege, amoral judgement.
However, Michael T. Kirkpatrick, an attorney in the litigation group of nonprofit advocacy group Public Citizen, said a bill of costs is standard court procedure. "There's nothing unusual at all about it," he said, noting that a bill of costs covers only limited expenses, not the entire cost incurred.
Must be OK then, Naderites.
I've been writing about CACI for years, and I've never been more disgusted (read my profile of it here). But it was this company that drew me into writing about outsourced intelligence in the first place. And here is that first article I ever wrote about the subject – "CACI and Its Friends," published in The Nation, on June 21, 2004 (I post it here because The Nation's on-line version is for subscribers and is only available behind its paywall).
Thanks to Katherine Hawkins, the former investigator for the Constitution Project Task Force on Detainee Treatment, for alerting me to this story today.
The Nation: "CACI and its friends."
By Tim Shorrock
In his now-famous report on Abu Ghraib prison, Maj. Gen. Antonio Taguba identified Steve Stefanowicz, a civilian interrogator employed by CACI International, as having "allowed and/or instructed" MPs to abuse and humiliate Iraqi prisoners and as giving orders that he knew "equated to physical abuse." Taguba charged that Stefanowicz was one of four people, including a contract interpreter employed by Titan Corporation and two military intelligence officials, who were "either directly or indirectly responsible" for the abuse. On May 21 the Justice Department opened a criminal investigation into an unnamed civilian contractor in Iraq after receiving a referral from the Defense Department.
Unlike Titan, which fired a translator suspected by Taguba of sexually humiliating detainees, CACI, which has twenty-seven interrogators working under Army command in Iraq, has taken a defiant stance on Taguba's allegations. On May 27, J.P. "Jack" London, CACI's longtime chairman and CEO, told securities analysts that CACI is unaware of "any specific charges" against its employees but is "working diligently to get the facts." He added, "We feel we've done a fine job for the United States Army," and said that "our work and integrity will come shining through." CACI declined comment for this article. Stefanowicz, through his attorney, has denied any wrongdoing.
CACI's history and operating philosophy provide valuable clues to its activities at Abu Ghraib. Based in Arlington, Virginia, the company was founded in 1962 by two men affiliated with the Air Force's RAND Corporation. For the next thirty-five years, it grew steadily by providing specialty software to the Pentagon and other government agencies, and in the late 1990s it plunged into the military-intelligence market. With the assistance of friends in high places, including Deputy Secretary of State Richard Armitage-a CACI director and consultant from 1999 to 2001, when he joined the Bush Administration–CACI entered the small universe of companies providing information technology and services to military units devoted to countering terrorism, a strategy once known to military planners as "asymmetric warfare." Since 9/11, CACI has emerged as one of the most unabashed corporate backers of Bush's foreign policy and a key supporter of the military campaigns in Iraq and Afghanistan.
"Even as I speak, men and women from CACI are forward deployed, worldwide, where the Army finds itself fighting this new century's most heinous war–the war on terrorism," London declared last October upon receiving a special award from the Association of the United States Army (a nonprofit organization that describes itself as "fostering public support of the Army's role in national security"), according to CACI's website. "We will be successful and victorious in eliminating this fanatical horror." In 2002 London said he had come up with a "simpler way" to define asymmetric warfare: "Not fighting fair." Those engaged in such tactics, he said, "embrace barbarism. And their ultimate goal is not victory, but absolute devastation." One of CACI's specialties is "social networks" analysis, which involves mapping relationships among terrorist networks and their civilian supporters–exactly what the US Army interrogators at Abu Ghraib were after. Such techniques are also embraced by the Israeli army in its confrontations with Palestinian militants in the West Bank and Gaza, and may explain the special award London received in January from Ariel Sharon's defense minister, Shaul Mofaz.
CACI's relationship with Armitage–a veteran of US covert operations who worked undercover with the CIA's infamous Phoenix assassination squads in Vietnam–underscores its political savvy. When he was elected a CACI director in 1999, Armitage was a member of the Pentagon's Defense Policy Board and president of Armitage Associates, a consulting firm with a long list of powerful clients that included Boeing, Unocal, Texaco, Goldman Sachs and the Brown & Root subsidiary of Halliburton. Price Floyd, Armitage's press officer at the State Department, said Armitage played a minor role at the company and "didn't consult with CACI on its contracts." But the company itself indicates that Armitage's advice was critical to CACI's growth. After he joined the Bush Administration, CACI said Armitage had provided "valuable guidance on CACI's strategic growth plans and the federal government and Defense Department markets." CACI's current directors include Barbara McNamara, former Deputy Director of the National Security Agency, and Arthur Money, former Assistant Secretary of Defense for Command, Control, Communications and Intelligence.
Last year, CACI earned $ 507 million in IT revenues from the government, making it the country's seventeenth-largest federal IT contractor–behind the multibillion-dollar leaders Lockheed Martin and Northrop Grumman but ahead of prominent contractors like Halliburton, Bechtel and AT&T. Sixty-five percent of its revenues came from the Defense Department, where CACI's clients include the Army's Intelligence and Security Command and V Corps, which has several units in Iraq that have been deeply involved in US counterinsurgency operations. Indeed, the wars in Iraq and Afghanistan have been very good for the company: In late May London predicted that CACI's revenues for the first quarter of the 2005 fiscal year will top $ 360 million, a 50 percent improvement over the same period the year before.
With its earnings, CACI has gone on an acquisition binge, buying eight companies since August 2002. One of those companies, Premier Technology Group, which CACI acquired in May 2003, is the source of its current troubles. In what appears to have been a byzantine bit of bureaucracy, the contracts CACI inherited are managed by the Interior Department's National Business Center, which has the authority to extend those contracts under "blanket purchase agreements." Frank Quimby, Interior's spokesman, said the US Army in Iraq specifically requested CACI's interrogation and intelligence support services at the prison; the purchase agreements for those services, he said, were signed on August 13 and December 3, 2003-a time when the worst abuses were taking place. As of mid-May, neither Interior nor the Army had "found any indications of faulty performance" with CACI, Quimby said. Those contracts and agreements, however, are being investigated by the Interior Department's Inspector General and the General Services Administration and could force the government to terminate CACI's ability to bid on future contracts.
Any investigation of CACI should also focus on the higher-ups who approved these contracts, as well as any Administration officials who may know about CACI's relationship with military intelligence. The military's abuse of Iraqi prisoners is bad enough, but the privatization of such practices is simply intolerable.